Business Casual Attire for Women Over 30
What do women in the creative or relaxed, technology corporate spaces wear to work? I've got a few tips on nailing business casual attire for women in this post. These outfit ideas are especially for those in the modern, millenial industries as you climb the corporate ladder in a less-than-corporate environment.
As an Amazon Associate I earn from qualifying purchases. This post may contain affiliate links. If you click on these links and make a purchase, I may receive a small commission at no additional cost to you.
If you're like me, an over 30 woman who loves fashion, then you've likely tried every trend in your 20s, even the ridiculous ones. I've found some hits and committed many style faux pas. I've been a slave to magazines, celebrities and the boutique of the moment and spent a pretty penny all in the name of making a statement while looking fabulous. Or trying to, at least.
In this post you'll find:
Style Transition into Business Casual Attire for Women Bosses
As I entered my 30s, I found a stride in my step. I knew by now my likes and dislikes, what works with my body, what I feel most comfortable wearing and what brings in the most compliments, whether on social media or out on the town. By now, I've defined my personal style and I'm no longer a slave to every latest trend. Now I make my own fashionable statements and always feel good when peers compliment me as it means I'm doing something right.
The over 30 woman has some staple pieces in her closet. Whether she can afford high street labels or shops for the look on sale, she's keen on keeping an eye out for variances of these pieces. She makes small updates to them to keep them fresh and in rotation, updating the look of these same pieces every now and then as the times and styles change.
Take Advantage of Sales
A sale day is a great way to begin to invest in these staple pieces. Be the talk of your social circle with a well-established sense of style. Sales of any kind used to mean bargain hunting for as many pieces as I can find to have a vast wardrobe of trendy pieces.
Now as an over 30 woman, I treat sales as an opportunity to veer in a different direction. I focus on getting a higher quality piece that I may not have been able to afford otherwise. A higher quality piece equates to better materials, better cut, design and assembly and much longer wear. Here are the pieces I recommend as closet staples as we move into sale season.
Wardrobe Investments
A Classic White Shirt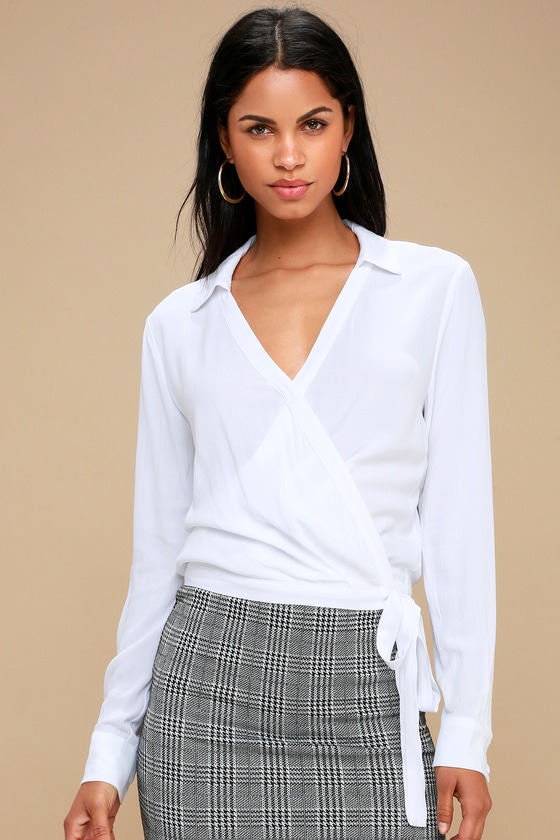 Archie White Long Sleeve Wrap Top – Lulus
We know this. You expected it. But it bears the reminder that a classic white shirt is timeless, versatile and allows you to display your unique sense of style with how you choose to accessorise it. Will you pair it with fresh jeans, high heels and a bold lip? Will you go with a pencil skirt and strappy heels? Or will you style it with a funkily patterned pant instead? Pick up a well constructed blank palette that is a fresh white shirt. Notice here that this style I've chosen it outside the norm of the oxford shirt. Go with whatever mood you're in, whatever defines your current personal style.
Black Pumps

Women's Black Pumps Commuting Low-cut Uppers Leather Stiletto Heels Shoes
Again, another timeless, classic staple. Every woman should own a pair of classic black pumps. Pointy-toed, round toed, stilettos or a chunky heel, the choice is yours. But invest in a good pair of black leather heels for both your parties, office wear and  business casual outfits.
A Jacket or Blazer

Solid Slim Blazer from: SheIn  

Shirred Sleeve Pointed Hem Crop Blazer 
 
Contrast Wave Lace Trim Open Front Peplum Blazer
I threw in three here, one for the conservative or corporate woman, one for the casual relaxed office and one for the fashionable, statement maker. Whether or not you want to go for the full suit depends on your career and opportunities to wear such a suit. A career woman should definitely own a few well-tailored suits that can chair an executive meeting, land a big contract or wow interviewers at your next dream job.
Those in the digital or creative industries may choose to skip the full suit and get a well-tailored blazer instead. You want to look smart when presenting your next TEDTalk or big pitch. Colour and style in these industries matter less than the fit. Even if you buy off the shelf, always get it tailored by a professional so that it fits you well. I am somewhere between the casual relaxed and the fashion statement. You can find me in the below.

Frayed Edge Tweed Blazer

Trumpet Sleeve Single Button Blazer
A Little Black Dress

Whimsy Wrap Dress, Black Noir (Women's Plus Size)
I like to keep two styles of these on hand. One that I can always wear to a function like a business event (or perhaps a funeral, who wants to go shopping when that pops up.) Plus another I can wear out to a social gathering or even a date. Go with the style or dress that suits your body and boosts your confidence. Perhaps a well constructed bodycon dress that hugs your curves without being loud. Or even a wrap dress with a flared hem. A lady is always ready for spontaneity and these pieces will help to keep her on her toes.
A Good Pair of Jeans

High Waist Rolled Hem Jeans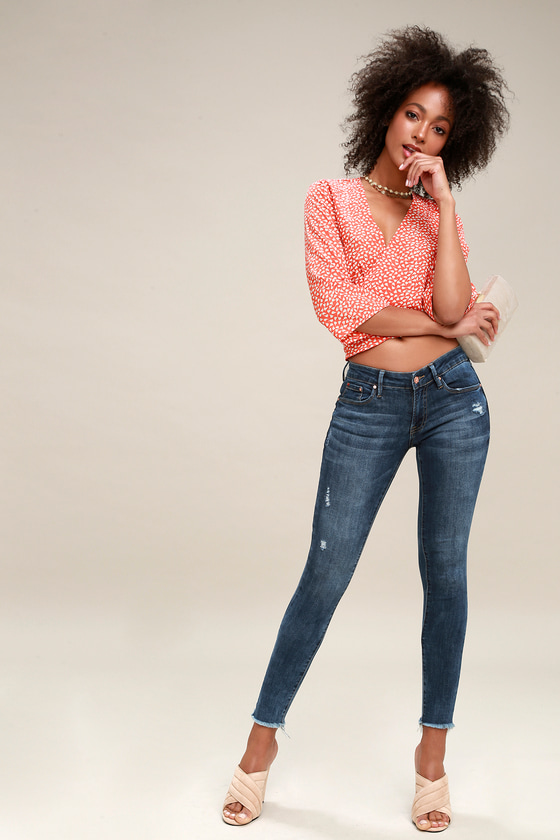 Epperly Dark Wash Distressed Ankle Skinny Jeans – Lulus
Finally, it may be time to update the stretch denim that you bought from Forever 21. Go for a high-end pair that will last several seasons and not look dated with the trends. Get yourself a pair that's well constructed and figure flattering.
Bonus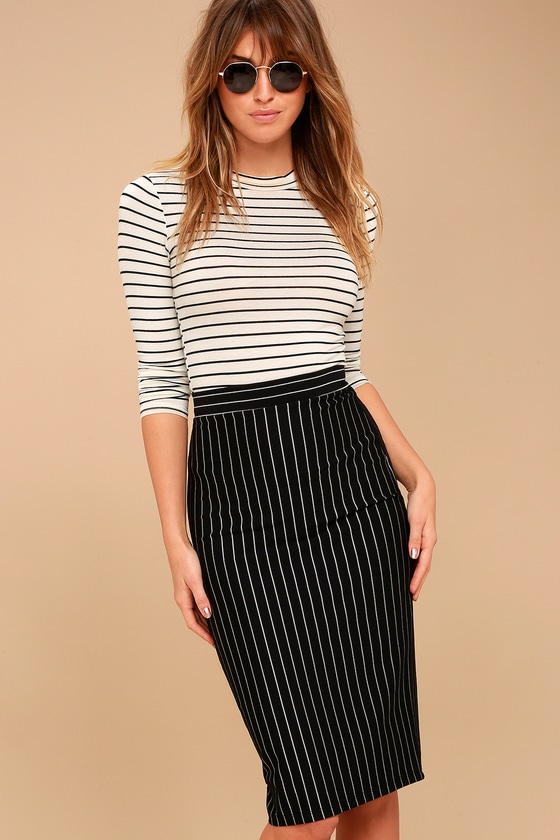 Line Up Black Pinstripe Pencil Skirt – Lulus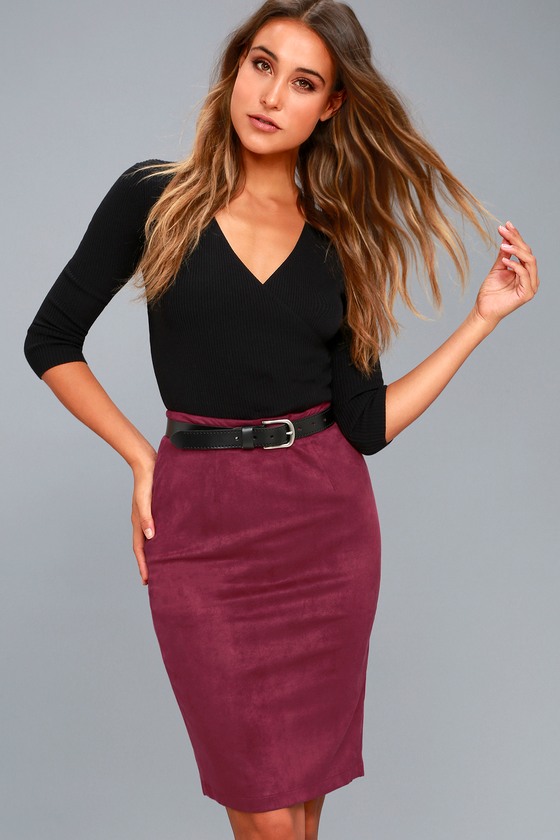 Superpower Burgundy Suede Pencil Skirt – Lulus
If you're not a denim lover (or even if you are) then invest in a few tailored pencil skirts. These are timeless, versatile and will give a more polished look to your outfit. More so than a cheaper stretch pencil skirt will.
Your well-made denim pant or pencil skirt, crisp white blouse, blazer and black pumps will instantly upgrade your business casual attire. These are pieces that can also be paired with trendier pieces and set you apart from the crowd. They'll give a grown yet relaxed look to items that will stand the test of time. From here, you can begin to build upon your wardrobe adding other big ticket items such as handbags, sunnies and strappy heels.